Published by: Strategy First
Developed by: Spellbound
Release Date: November 15, 2002
Genre: Real-Time Strategy
Size file : 650 MB
Minimum System Requirements
System: PII 233 or alent
RAM: 64 MB
Video Memory: 4 MB
Hard Drive Space: 1000 MB
About This Game
England, late 12th century. King Richard the Lion-Hearted, back from the Crusades, has been taken prisoner at Durensteien Castle in Austria. His chances of escaping are slim; his ransom, exorbitant. In his absence, his brother, Prince John, has taken over the throne with the help of some powerful Norman barons.
Extortion, racketeering, taxation of all sorts, and the proclamation of unjust laws have become par for the course. The people of England are bending to the will of these unscrupulous individuals. But North of Nottingham, in the heart of Sherwood Forest, one man refuses to give in to the Normans. This rebel, an outstanding archer, calls himself Robin Hood.
Robin has sworn to return the throne to King Richard, but to do this, he must collect enough gold to pay the King's ransom and chase Prince John from the kingdom.
Robin Hood offers 40 separate missions, all of them perfectly screen-written.
Under Creative Commons License: Attribution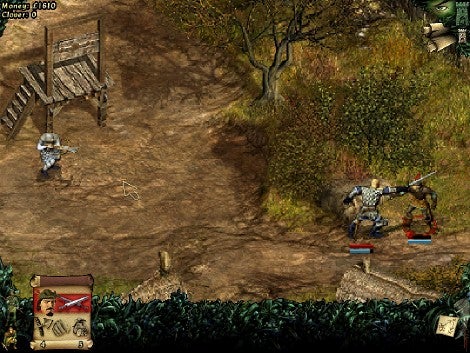 Download :
http://www.mediafire.com/?sharekey=fc3602b04826185224a64199ac7f73e5a67327452ac20bf0f7e866bfb1230ce0
Password :
www.gamehousevn.com
Sesudah didownload semua ekstrak file rar, lalu setelah diekstrak buka file isonya pake ALZip (saya coba pake WinRar dan lainnya g bisa)
Cheat Codes :
Cara menggunakan cheat : Pastikan character dalam posisi berdiri lalu gerakkan kursor ke icon berlutut/jongkok (jangan di klik), tekan F11 lalu ketikkan cheatnya lalu Enter.
Cheat _______________Effect
GOODLUCK ________Add Cloverleafs to the campaign
CASH ______________Gives more money
BINGO _____________Gives all your characters 999 ammo
IMMUNITY _________Gives your characters invunlerability
MERRYMAN ________Gives you one extra merry man
TIMELESS __________Stops Time
PAM ______________Makes all enemies ineffective in melee combat
UNBLIP ____________See all characters on the map
WINNER __________ Win the mission
NUKE _____________Kills all opponents
BUD SPENCER ______Stuns all opponents
GOLDENEYE _______Makes all party characters invisible
HIGHLANDER ______Makes all party characters invincible
HIGHLANDER 2 _____Makes all enemies invincible
HADES ____________ Kills selected enemy